New Kromski Harp Forte has landed
Some exciting Harp news for our weavers and soon to be weavers. With the arrival of our container in late May we will receive a new style of  the Harp.  The Kromskis have implimented a new ratchet and pawl system that uses metal parts and rare earth magnets as an acuator.  In light of this change we have blessed the loom with a new name:  the Kromski Harp Forte.  Read more about the Harp Forte.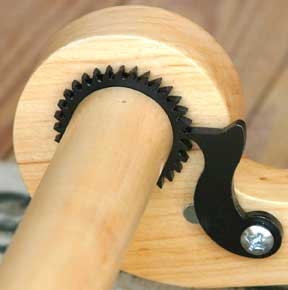 Here is a picture of  the parts.  With the move to metal parts you can set the tension to a higher setting that may be needed for some of your projects. Whether the tension is slight, moderate or high, the rare earth magnet keeps the ratchet and pawl engaged automatically.
For our weavers that have previious versions of the Harp, you can easily upgrade by using our Harp Forte Upgrade kit.  Installation is easy and the price is only $32.  Get the kit from your dealer and get the feel of the new Harp Forte.  Here is more info.
New – Polish Merino Wool Top
Also arriving in May is our first shipment of Polsih Merino Wool Top.  Not far from the Kromski home town of Wolyston is a large fiber mill that processes a large quantify of fine wool, all sourced in Poland.  The Polish Merino breed has been in the country for over 200 years, having originated from breeding stock imported from Spain and France. The micron size for this wool is 27, which puts it in the catagory of a Corriadale wool.  It is very soft and a lot of fun to work with.  We presently have 23 colors of top plus carded wool in a natural color.  Give a look at all the colors over at our new wool page.
New from The Kromski coming late Summer
Just missing our May container are 2 new products from the Kromski that you will want to take note of: Kromski Wool Carders and a Harp Forte in the 8″ size. The Kromski carders have been sold in Europe for some time and have been very popular.  Two different types of card clothing will be available: 72tpi and 105tpi.
Our Sonata wheel is now available unfinished
For those wanting to pinch a penny and be free to finish or paint a wheel, the Sonata is now available unfinished.  No prep work on  your part; it is ready to work on.  Contact your dealer.  Read more about this wheel.